GreenGate Joyce

This season GreenGate introduces a new line of tableware with bowls, plates and jugs in the colors taupe,warm grey and mint.
The tableware is produced in Portugal. The products are made of earthenware in organic shapes - hand painted and hand glazed, so they have a rustic handcrafted look. Therefore small imperfections are also the nature and charm of the products – just like the products will develop patina after long time use.
The products are suitable for dishwasher and microwave, but are not safe for oven.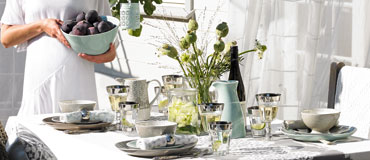 There are no products to list in this category.